The Penang Global Ethic Project Launch
OFFICIAL LAUNCH
World Religions - Universal Peace - Global Ethic
10.00am, Tuesday, 7 February 2006
....at USM ABN-AMRO Arts & Cultutal Centre, Lebuh Pantai
Speeches
TEKS UCAPAN NAIB CANSELOR USM SEMPENA PELANCARAN
THE PENANG GLOBAL ETHIC PROJECT & PAMERAN
"WORLD RELIGIONS - UNIVERSAL PEACE - GLOBAL ETHIC"
7 Februari 2006,
Pusat Kesenian dan Kebudayaan USM ABN AMRO,
Jam 10.00 pagi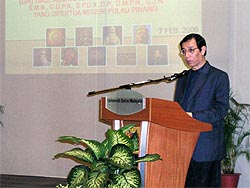 Bismillahirrahmanirrahim

Assalamauataikum
Warahmatullah Hiwabarakatuh

Salam Sejahtera dan Selamat Petang

Tuan Yang Terutama Tun Dato' Seri Utama (Dr) Haji Abdul Rahman bin Haji Abbas
Yang DiPertua Negeri Pulau Pinang
Dan
Toh Puan Majimur Sharif

Yang Amat Berhormat Tan Seri Dr Koh Tsu Koon Ketua Menteri
Puiau Pinang dan Datin Seri

Konsolat General

Mr.Peter Schier
Representative Konrad Foundation
Y.Bhg Dato' Anuar Fazal Presiden
Malaysia Interfaith Network
Merangkap
Pengerusi Jawatankuasa The Penang Global Ethic Project
En Hasnul Jamal Saidon Pengarah
Muzium dan Galeri Seni USM

Tetamu-Tetamu Kehormat

Pegawai-pegawai Utama Universiti, Para Pensyarah, Para Pelajar, Tuan-Tuan dan Puan-Puan Sekelian.
Pertama sekali, ingin saya memanjatkan kesyukuran ke hadrat Allah Subhanahu wata'ala kerana dengan limpah kurniaNya sekati lagi dapat kita berkumpul dimajiis perasmian The Penang Global Ethic Project serta Pameran "World Religions - Universal Peace - Global Ethic" pada pagi ini.
Majlis ini juga dengan hormat dan takzimnya rnengucapkan setinggi tinggi terima kasih atas kehadiran TYT Tun Dato' Seri Utama Tun (Dr) Haji Abdul Rahman bin Haji Abbas, dan yang Amat Berbahagia Toh Puan Majimor Binti Sharif ke majlis ini dan seterusnya melancarkan program yang julung-julung kalinya diadakan di Pulau Pinang.
Majlis ini juga mengalu alukan kehadiran Yang Amat Behormat Tan Sri Koh Tsu Koon, Ketua Menteri Pulau Pinang dan Puan Seri kemajlis ini. Sesungguhnya kehadiran Yang Amat Behormat ke majlis ini menggambarkan keprihatinan Yang Amat Behormat terhadap usaha kita dalam penyatuan umat sejagat dan etika global melalui kepelbagaian agama yang dianuti.
Ladies and Gentlemen,
In this age of globalization, our cultural boundaries and religious boundaries are breaking down. No matter what religion we may ourselves espouse, we find that we have to live and work together with people of other religions both at home and abroad. Just as we work towards internationally recognized and accepted environmental standards, standards of transparency, provision of basic necessities, education and so forth, so we should also work towards internationally recognized and accepted ethical standards.
The promoters of the global ethic are right to assume that the question of morals and ethics are always coloured by religion. People of different religions will be committed first and foremost to the teachings of their own religion and this is why differences have frequently arisen between people of different religions. But we have heard that all religions teach us to be good, so we must be able to find something good that we can all agree upon. In Malaysia, we have no excuse to be ignorant about other major religions practiced in our country. This knowledge is the basis of mutual respect and a common civilization.
In the West they talk about 'clash of civilizations'. It is a theory based on distortions of history, but it would be a global disaster if that were allowed to become a self-fulfilling prophecy. We have to fight ignorance with knowledge and information. We need to counteract this by promoting a message of `co-existence of civilizations' and 'dialogue of civilizations'.
Here, in Penang and in Malaysia, we are in a good position to promote this dialogue of civilizations, and to get the leading minds at home and abroad to engage in articulating the common values and common aspirations of people of different ethnicities, cultural backgrounds and faiths. And we must move beyond articulating these shared value to promoting them, in school education, in university education and in public education.
Professor Hans Kueng, the author of `World Religions-Global Ethic-Universal Peace' and the Konrad Adenauer Foundation has laid out the teachings of the world religion in plain language so it becomes a tool for civic education schools. Dato' Hishamuddin has encouraged the teaching of the Golden Rule in the newly established subject of civic education for Muslim and non-Muslim students. Step-by step to expand on this so that Malaysian children can become more educated about common values shared by peoples of different faiths and cultures.
In our university we must prepare our students not only to complete academically and economically in a globalizing world, but also to work towards a better world. More than before, we need young people who have a commitment to ethical standards and universal peace. It is a fact that people of different faiths have to work together not only for socio-economic development but also to protect the earth's environment, to fight against corruption, to strive for peace and to speak out against war.
Bagi mengakhiri ucapan saya, sekali lagi bagi pihak Universiti Sains Malaysia dengan hormat takzimnya mengucapkan terimakasih atas kesudian TYT Tun dan Toh Puan hadir dan seterusnya melancarkan program ini. Saya juga mengambil kesempatan ini mengucapkan terima kasih kepada Yang Amat Berhormat Tan Sri Koh Tsu Koon, Ketua Menteri Pulau Pinang kerana dapat hadir kemajlis ini walaupun mempunyai tugas yang ketat setiap hari.

Sesungguhnya program ini amat penting dalam visi penyatuan umat sejagat melalui kepelbagaian agama di dunia ini.
Sekian, Terima kasih.
.