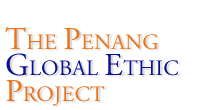 Your comments and opinions
---
Subject: Your website is an inspiration!
I wanted to thank you for putting up a wonderful site which has enriched my understanding of world religions. Your website is also an inspiration for me to continue to explore the subjects in greater detail. Thank you for your thorough research and thought-provoking articles.
William Chow, Penang, Malaysia
January 17, 2006 4:51 PM
---
Subject: Very informative and enriching
Very informative and enriching Excellent to promote interfaith understanding, especially to indentify common values and narrow down to one single golden rule. I will be lecturing on 'values and attitudes in science' to a group of SEAMEO teachers nextweek, I certainly find your website inspiring and I intend to incorporate some informations here into my topic for discussion. The noble values and scientific attitudes that we wish to incalcate in learning sceince have common grounds with Global Ethic.

Lee SM, Bayan Lepas, Penang, Malaysia
March 04, 2006, 4:59 PM
---
Subject: 'GLOBAL ETHIC IS THE NEED OF THE HOUR" ....

Very happy to see your website. Global Ethic concept is the need of the hour.Wish to visit
some of your members during my short visit to Penang in December 06.
Sathyamoorthy.U, Thailand
December 05, 2006, 18:55

---
Subject: Feedback

I read the recent article by Mr Peter Schier in the Sun.The KAF in Malaysia is on the right path.
Kiron Manuel, Selangor, Malaysia
Friday, December 08, 2006, 3:03 PM
---