.

Baha'i Faith

According to the Baha'i Faith, from time to time throughout human history, God has sent divine messengers, or manifestations of God, who bring fresh outpourings of spiritual light that nourishes and gives life to the souls and becomes the basis of a new religion with its own character. They each bring new social teachings suited for their time that become the basis of a new civilization. However, the spiritual precepts that deal with eternal truths, such as the unity of God, love, peace, truthfulness, honesty and trustworthiness remain the same in all the religions.

The Baha'i Faith is an independent world religion which was founded in 1844 in Persia. Today, its more than six million members reside in 232 countries and dependent territories. The Baha'i Faith is devoid of rituals and priesthood, and its affairs are governed by elected local, national and international governing bodies.

The Baha'i International Community has been one of the most active of the non-governmental organisations in the various agencies of the United Nations. It is involved in a wide range of activities including peace-building, human rights, education, health, environmental conservation and sustainable development and the promotion of women's equality.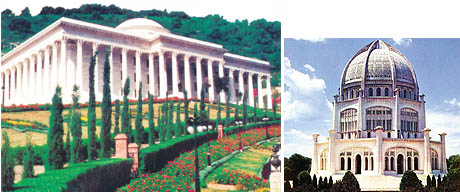 From left: Universal House of Justice, Haifa; Baha'i House of Worship, Chicago..

The Baha'i scriptures consist of a large number of writings of the three central figures of the faith:
• The Bab, the forerunner of the Baha'i Faith (1819 - 1850);
• Baha'u'llah, the founder prophet of the faith (1817 - 1892);
• and his son Abdul Baha (1844 - 1921).
The Baha'i teachings touch nearly every aspect of human life and are centred on three essential truths:
I. The Oneness of God – that there is only one God and that God is actively concerned about the development of humanity.
He is, and has from everlasting been, one and alone, without peer or equal, eternal in the past, eternal in the future, detached from all things, ever abiding, unchangeable and self-subsisting.
Baha'u'llah
II. The Oneness of Religion – that God sends to humanity a succession of Educators to guide human beings with spiritual truths and to reveal laws and ordinances needed at each stage of human existence.

Religion is reality and reality in one. The fundamentals of the religion of God
are therefore one in reality. There is neither difference nor change in the fundamentals.
Abdul-Baha
III. The Oneness of Mankind – that all human beings come from the same stock and deserve equal treatments and opportunities to shape their lives meaningfully in the interests of all mankind.
Regard you not one another as strangers. You are the fruits of one tree and the leaves of one branch.
Baha'u'llah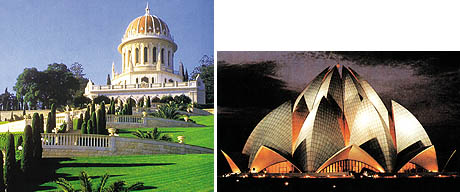 From left: Shrine of the Bab; Baha'i House of Worship, New Delhi..