World Religion Walk, Penang
Religious Co-Existence
The Street of Harmony
JALAN MASJID KAPITAN KELING (formerly Pitt Street)

There is a special place in Penang, dubbed the 'Street of Harmony'. Here, houses of worship representing various world religions are lined up along an axis. The place illustrates a history of peaceful religious co-existence and cultural exchange among the followers of the great faiths of Islam, Buddhism,Hinduism, Christianity, as well as the Chinese religion, which combines Confucianism,Taoism and Buddhism.
Cultural Encounter
Penang society was shaped by waves of migration. Traders, workers and adventurers from the Malay kingdoms, Indonesia, Thailand, Myanmar, China, India, Sri Lanka, Europe, the Middle East and Japan came to settle. With a history of more than 200 years of ethnic and religious co-existence, Penang demonstrates exchanges between these communities that go beyond mere tolerance of diversity.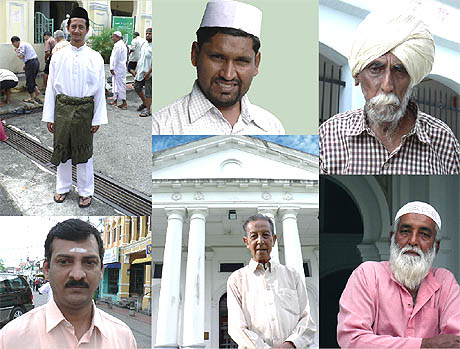 The policy of religious freedom which characterised British rule in Malaya was first formulated in Penang.
Located midway between India and China, the port of Penang was established by Captain Francis Light in 1786 as a trading post for the East India Company. As the new settlement attracted 10,000 settlers of all creeds and nations, Light proposed that 'each race has a right to preserve its civil and religious peculiarities.'

.

.
Today, Islam is Malaysia's official religion but freedom of worship is guaranteed by the federal constitution.
A Shared Heritage
Penang has preserved the rich legacies of its Islamic, Buddhist, Confucian, Taoist, Hindu, Sikh and Christian communities. These legacies can be seen in Penang's culture, architecture and contemporary religious practices. The bygone diaspora communities of Armenians and Jews are remembered in historic sites and street names.
Today, the city of George Town, capital of Penang, is blessed with more than 100 spiritual sites built by consecutive waves of migrants and sojourners. Although the port settlement has developed into a modern city, George Town remains the spiritual heartland for diverse communities whose ancestors settled in Penang before moving on to other parts of Malaysia, Southeast Asia and the world.
Popham Map, 1798
Early George Town consists of a grid of streets bounded by Light Street, Beach Street, Chulia Street and Pitt Street. During the term of Lieutenant-Governor Sir George Leith (1801-1803), some of the religious institutions along Pitt Street were issued land titles.
The Penang Global Ethic Project
Penang's 'Street of Harmony' is a place where people of all nationalities, backgrounds and ages can learn about the traditions of peaceful co-existence among communities of different cultures and faiths. The Penang Global Ethic Project is a long-term project to showcase this internationally unique site.
Launched in February 2006 with a series of lectures, forums, tours and exhibitions on 'World Religions – Universal Peace – Global Ethic', the Penang Global Ethic Project aims to promote a wider understanding of the ethical principles held in common by the major world religions.
Virtual tour of the "World Religion Walk, Penang"
Click here to begin your walk.
---
Produced by Lestari Heritage Network © All rights reserved.
Photos by Goh Hun Meng and Tan Yeow Wooi © All rights reserved.
.