.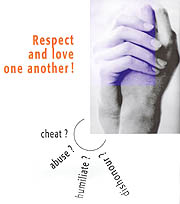 Respect and
love one another!
Responsibility for
your partnerís happiness
In the great ancient religious and ethical traditions of humankind, we find the directive: You shall not commit sexual immorality! Or in positive terms: Respect and love one another!
Let us reflect on the consequences of this ancient directive:
No one has the right to degrade others to mere sex objects, to lead them into or hold them in sexual dependency.
Let no one be deceived: There is no authentic humaneness without a living together in partnership. Young people must learn at home and in school that sexuality is not a negative, destructive or exploitative force, but creative and affirmative. The relationship between women and men should be characterized not by patronizing behaviour or exploitation, but by love, partnership, and trustworthiness.
From the 'Declaration Toward a Global Ethic'
of the Parliament of the World's Religions, Chicago 1993.
They took my body from me and used it. Drugged and raped in her hotel room.
Guardian
Paedophile network abused 200 children.
Independent
Call girls to be questioned in cricket scandal.
Observer
Britons face jail over Internet paedophile club.
The Times
Sierra Leone rebels practised systematic sexual terror.
Washington Post
Women 'sold into sexual slavery'.
Irish Times
Sex trade enslaves East Europeans.
Washington Post
South Africa new centre for child sex.
The Times
I million children are 'abused every year'.
Daily Telegraph
Domestic violence explodes. An epidemic of domestic violence is sweeping Britain's homes.
Guardian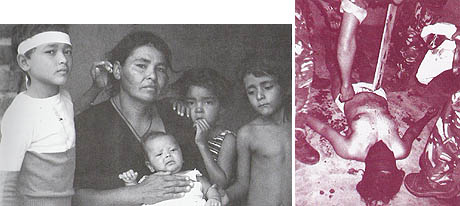 .