• The Penang Global Ethic
• Project: 4 Feb to 10 Mar 2006
• – Official Launch
• – Speeches
• – Photo Gallery
• Exhibitions
• – Bahasa Malaysia
• – English
• – Chinese

• Folke Tegetthoff's 'Tales from
• Heaven'
• – Presentation
• – Photo Gallery
• – Workshop
• – Photo Gallery

• Arabic & Chinese Calligraphy
• on 'The Golden Rule'
• – Photo Gallery
Art Competition
• – Photo Gallery

• Public Forums
• – Views on Religion &
• – Environment
• – Views on Religion &
• – Corruption
• – Views on Religion & Peace
• Exploring Streets Of Harmony
• – Photo Gallery
• World Religions Walk
• PENANG
• – Introduction
• – Location Map
• – Details of Virtual Tour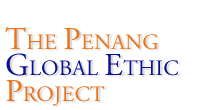 The Penang Global Ethic Project Launch
OFFICIAL LAUNCH
World Religions - Universal Peace - Global Ethic
10.00am, Tuesday, 7 February 2006
....at USM ABN-AMRO Arts & Cultutal Centre, Lebuh Pantai
Photo Gallery

Professor Dato' Dr. Zulkifli Abdul Razak, Vice-Chancellor of
the Universiti Sains Malaysia delivering his opening address.

Mr Peter Schier, representative of the Konrad Adenauer Foundation
in Malaysia explains about the Penang Global Ethic Project.

T.Y.T. Tun Dato' Seri Haji Abdul Rahman bin Haji Abbas,
Yang Dipertua Negeri Pulau Pinang delivering his speech.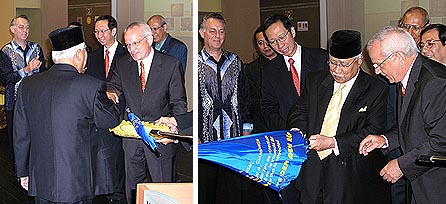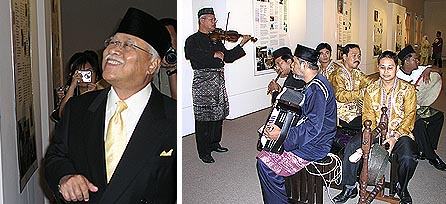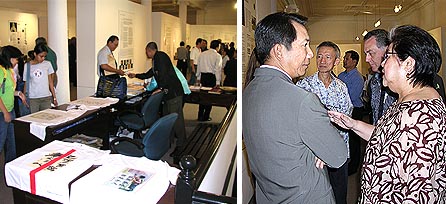 Photos by Adrian Cheah
.