• The Penang Global Ethic
• Project: 4 Feb to 10 Mar 2006
• – Official Launch
• – Speeches
• – Photo Gallery
• Exhibitions
• – Bahasa Malaysia
• – English
• – Chinese

• Folke Tegetthoff's 'Tales from
• Heaven'
• – Presentation
• – Photo Gallery
• – Workshop
• – Photo Gallery

• Arabic & Chinese Calligraphy
• on 'The Golden Rule'
• – Photo Gallery
Art Competition
• – Photo Gallery

• Public Forums
• – Views on Religion &
• – Environment
• – Views on Religion &
• – Corruption
• – Views on Religion & Peace
• Exploring Streets Of Harmony
• – Photo Gallery
• World Religions Walk
• PENANG
• – Introduction
• – Location Map
• – Details of Virtual Tour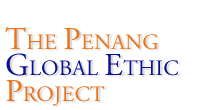 The Penang Global Ethic Project Launch

PUBLIC TALK
Folke Tegetthoff's 'Tales from Heaven'
PUBLIC TALK – 8.30pm, Sunday, 12 February 2006
....at USM ABN-AMRO Arts & Cultutal Centre, Lebuh Pantai

"A new name has to be added to Aesop, Grimm, Andersen..."
– The Manly Daily, Sydney

"Story telling does not simply mean setting up channels between my mouth and your ears - it means laying out very fine threads between my heart and your hearts." – Folke Tegetthoff

"He planted the tree of the fairy tale in the heart of the people..."
– The Star News, Los Angeles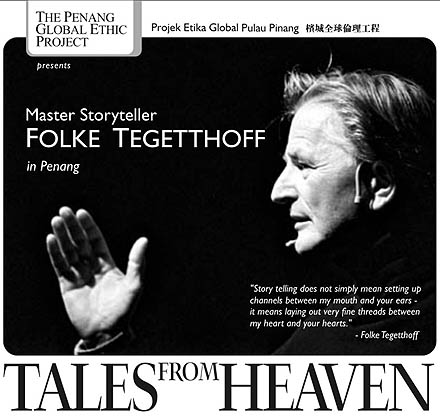 One of Europe's foremost modern storytellers, Folke Tegetthoff, shared his dynamic narrative talents with Penangites when he depicted stories from his
famous 'Tales from Heaven' during a presentation on the island.
Also present there on Sunday were the Ambassador of Austria Dr. Donatus Koeck, representative of Konrad-Adenauer-Foundation Peter Schier and Soka Gakkai (M) deputy president Liu Cheng Choong.
Tegetthoff who had studied medicine and education theory in his younger days, came upon a certain fairy tale one morning that inspired him and became a turning point of his life. Since than his life as a storyteller has grown. Tegetthoff, a native of the Austrian town of Graz, is admired for combining classical elemants of the fairy tale with a new contemporary style of presentation.
He is the organiser of Europe's biggest storytelling festival, the 'Grazerzahlt' or "Tales of Graz". He has published 31 books, selling over 1.4 million copies, and has had seven TV movies made. His work has been also entered in the archives of the National Library of Congress in Washington, DC.
He has now become committed to reviving storytelling as a popular medium for healthy recreation and family bonding. More about Tegetthoff can be viewed at his website, www.tegetthoff.at.
The event was organised by the Konrad Adenauer Foundation and Universiti Sains Malaysia (USM), with the support of Cape Poetics. It is part of the 'The Penang Global Ethic Project', a month-long series of programmes to promote concepts of universal peace and multi-religious harmony.
Click here for Photo Gallery
Click here for Press & Reviews
.