• The Penang Global Ethic
• Project: 4 Feb to 10 Mar 2006
• – Official Launch
• – Speeches
• – Photo Gallery
• Exhibitions
• – Bahasa Malaysia
• – English
• – Chinese

• Folke Tegetthoff's 'Tales from
• Heaven'
• – Presentation
• – Photo Gallery
• – Workshop
• – Photo Gallery

• Arabic & Chinese Calligraphy
• on 'The Golden Rule'
• – Photo Gallery
• – Press & Reviews
Art Competition
• – Photo Gallery

• Public Forums
• – Views on Religion &
• – Environment
• – Views on Religion &
• – Corruption
• – Views on Religion & Peace
• Exploring Streets Of Harmony
• – Photo Gallery
• World Religions Walk
• PENANG
• – Introduction
• – Location Map
• – Details of Virtual Tour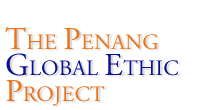 The Penang Global Ethic Project Launch
OFFICIAL LAUNCH
World Religions - Universal Peace - Global Ethic
10.00am, Tuesday, 7 February 2006
....at USM ABN-AMRO Arts & Cultutal Centre, Lebuh Pantai
The official opening ceremony of the exhibition "World Religions - Universal Peace - Global Ethic" was officiated by the Yang di-Pertua Negeri Tun Abdul Rahman Abbas at USM ABN-AMRO Arts & Cultutal Centre in Lebuh Pantai.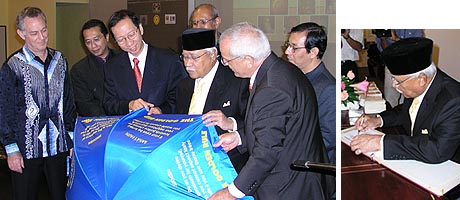 Professor Dato' Dr. Zulkifli Abdul Razak, Vice-Chancellor of Universiti Sains Malaysia and Mr. Peter Schier, Malaysian Representative, Konrad Adenauer Foundation also delivered their speeches that morning.
Originally shown at the United Nations headquarters in New York, and previously exhibited in Kuala Lumpur and Sarawak, the exhibition was held for the first time in Penang. The exhibition promotes the common ethical values which can be the basis of peace and dialogue amongst the world's religious communities.
One common principle is the Golden Rule "Treat others as you like to be treated", variations of which are found in all religions.
This multi-lingual exhibition was joinly organised by, USM, Konrad Adenauer Foundation, and the Malaysian Interfaith Network. The exhibition was made available in Malay, English and Mandarin. The English version was exhibited at the Penang Municipal Council Town Hall in Esplanade, the Bahasa Malaysia version was at USM ABN Amro Arts and Culture Center in Beach Street and the Chinese version was at the Alpha Utara Gallery in China Street.
Click here for Speeches & Reviews.
Click here for Photo Gallery..
.