• The Penang Global Ethic
• Project: 4 Feb to 10 Mar 2006
• – Official Launch
• – Speeches
• – Photo Gallery
• Exhibitions
• – Bahasa Malaysia
• – English
• – Chinese

• Folke Tegetthoff's 'Tales from
• Heaven'
• – Presentation
• – Photo Gallery
• – Workshop
• – Photo Gallery

• Arabic & Chinese Calligraphy
• on 'The Golden Rule'
• – Photo Gallery
• – Press & Reviews
Art Competition
• – Photo Gallery

• Public Forums
• – Views on Religion &
• – Environment
• – Views on Religion &
• – Corruption
• – Views on Religion & Peace
• Exploring Streets Of Harmony
• – Photo Gallery
• World Religions Walk
• PENANG
• – Introduction
• – Location Map
• – Details of Virtual Tour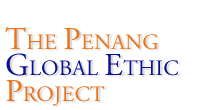 The Penang Global Ethic Project Launch
EXHIBITION
Arabic & Chinese Calligraphy on
'The Golden Rule'
4 February to 10 March 2006
....at Galeri Pinang, Dewan Sri Pinang, Lebuh Light
Press & Reviews
First published in New Sunday Times, Malaysia,
Sunday, 19 February 2006

Calligraphies of Two Worlds
By Himanshu Bhatt

1,136KB, best viewed with
QuickTime

1,078KB, best viewed with
QuickTime
The first exhibition to bring together calligraphic artworks from both the Far East and Middle East traditions is now being displayed in Penang for about a month.

The exhibition features winning entries from the Arabic and Chinese calligraphic competition held at the Islamic Arts Museum in Kuala Lumpur last year.
The intercultural project was originally meant to draw together individuals and artists from different religious and ethnic backgrounds through a single value shared by various world civilisations.
The theme of "treat others as you would like to be treated" was selected as a common ethical denominator found in all faiths and traditions in the world.
Labelled as the "Golden Rule", this theme became the focal point of the calligraphy competition.
In the same spirit that it delves on a mutual cross-cultural subject, the exhibition also focuses on a common artistic medium that is somehow shared by the two geographically distant traditions.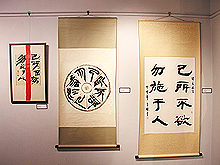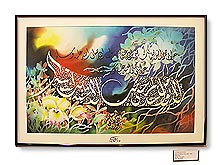 The art of calligraphy has been highly developed in both the Arab and Chinese civilisations for centuries.
What is especially interesting to observe in the exhibition is the contrast in aesthetic principles between the two calligraphic traditions.
But when the works are placed together, one cannot help but also feel a sense of semblance in the abstract beauty the two disciplines exude, even as their spirits originate from completely separate sides of the Asian continent.
The event is being held as part of the Penang Global Ethic Project, a month-long series of programmes to promote concepts of universal peace and multi-religious harmony.

The exhibition featuring Arabic and Chinese Calligraphy on the 'Golden Rule' will be held at Galeri Pinang, Dewan Seri Pinang till March 10. For details, call 04-2613144 or visit www.globalethicpenang.net.
Photos and panoramic clips by Adrian Cheah
.