The Penang Global Ethic Project Launch
DISCOVERY TRAILS FOR YOUNG PEOPLE (3-15 persons per group)
Exploring our Streets of Harmony
LEBUH FARQUHAR–JALAN MASJID KAPITAN KELING–LEBUH ARMENIAN–LEBUH ACHEH
9.00am to 11.30am, Saturdays for lower secondary school students
Trails which are specially designed for young people, with hands-on activities such as interviews, information hunts, group work, documentation and interactive learning of skills such as making of songkok, flower garlands and joss-sticks. To register call Penang Heritage Trust/ARTS-ED at 604-264 2631.
Photo Gallery

Training workshop for the tour guides by Khoo Salma.
Warm up sessions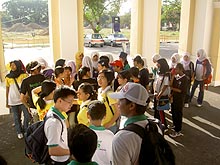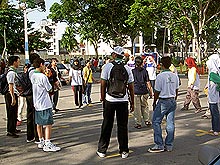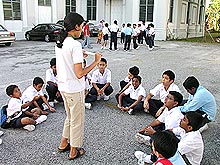 Church of the Assumption
LEBUH FARQUHAR
The oldest Catholic church in Penang, formed in 1786 by the Eurasians of southern Thailand and Kedah. The church building dates from 1860. The church was elevated to the Cathedral of the Diocese of Penang in 1955.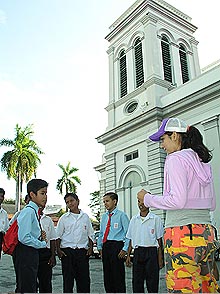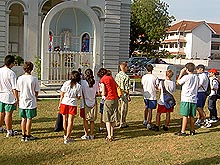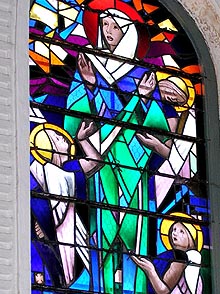 St. George's Church
LEBUH FARQUHAR
The oldest Anglican Church in Southeast Asia. The building dates from 1818 and was designed by Captain Robert Smith of Madras Engineers, who painted the famous early views of Penang. The Anglicans follow the traditions developed by the Church of England.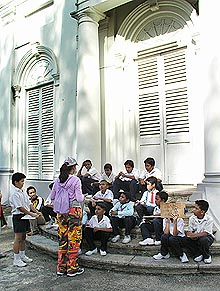 Kuan Yin Temple
JALAN MASJID KAPITAN KELING
The Kuan Yin Temple is a Chinese temple dedicated to the Goddess of Mercy, an incarnation of the Boddhisatva Avaloekiteshvera. On the 1st and 15th of each lunar month, devotees observe a vegetarian diet and offer joss-sticks at the temple. The temple hosts Chinese opera and puppet shows during the three annual feast days on the 19th day of the second, sixth and ninth month of the lunar calender.

Kapitan Keling Mosque
JALAN MASJID KAPITAN KELING
The mosque was founded by Kapitan Keling Cauder Mohudeen, leader of the Tamil Muslim community, on trust lands endowed by the East India Company in 1801. The mosque parishioners are Sunni Muslims, of both Shafie and Hanafi schools. Sermons are conducted in Malay and Tamil. The present Moghul revival look, circa 1910, was designed by the German Eurasian architect, Henry Alfred Neubronner.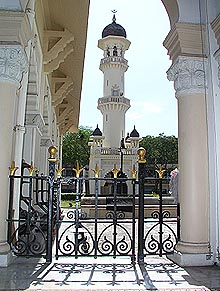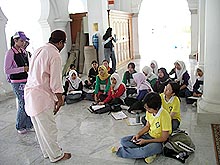 Sri Maha Mariamman Temple
LEBUH QUEEN
This public temple, dedicated to the Hindu goddess Sri Maha Mariamman, was built in 1833. Historically, it catered to the Tamil community of traders and stevedores originating from South India. The temple is the focus of two annual festivals, Thaipusam in January/ February and Chitraparuam in April/ May.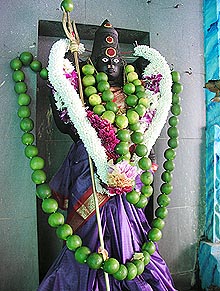 Photos by Adrian Cheah and Penang Heritage Trust.
.