• The Penang Global Ethic
• Project: 4 Feb to 10 Mar 2006
• – Official Launch
• – Speeches
• – Photo Gallery
• Exhibitions
• – Bahasa Malaysia
• – English
• – Chinese

• Folke Tegetthoff's 'Tales from
• Heaven'
• – Presentation
• – Photo Gallery
• – Workshop
• – Photo Gallery

• Arabic & Chinese Calligraphy
• on 'The Golden Rule'
• – Photo Gallery
Art Competition
• – Photo Gallery

• Public Forums
• – Views on Religion &
• – Environment
• – Views on Religion &
• – Corruption
• – Views on Religion & Peace
• Exploring Streets Of Harmony
• – Photo Gallery
• World Religions Walk
• PENANG
• – Introduction
• – Location Map
• – Details of Virtual Tour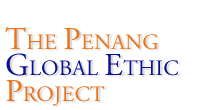 The Penang Global Ethic Project Launch
ART COMPETITION (for primary & secondary school students)
Seeing Unity in Diversity
Starts at 8.00am, Saturday, 18 February 2006
....at Dewan Sri Pinang in Lebuh Light
This art competition was opened to primary and secondary school students in Penang. It was divided into 4 categories with the theme – "Seeing Unity in Diversity. The event was organised by the Penang Teachers' Art Circle. Winning entries were exhibited for public viewing at Dewan Sir Pinang in Lebuh Light till 11 March 2006.
Photo Gallery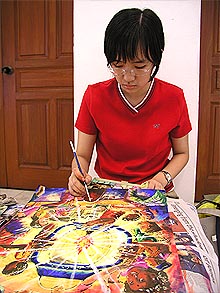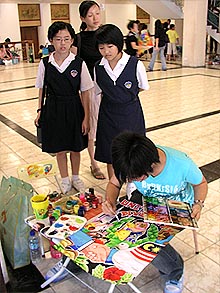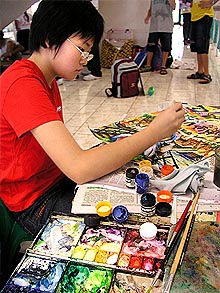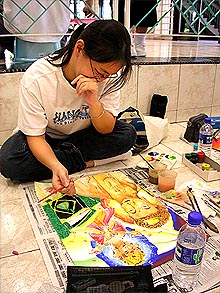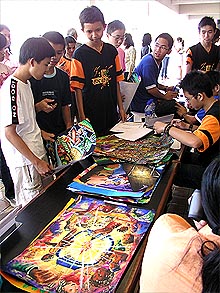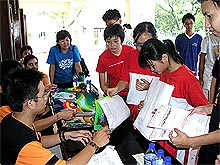 Selecting the winning entries
Hundred of drawings were received in response to the competition. The panel of judges which included Tan Lye Hoe, Himanshu Bhatt, Haryany Mohamad, Koay Soo Kau and Khoo Salma Nasution had a tough job choosing winners and all agreed that standards were very high. However, after much deliberation, they selected the winning entries for their originality, imagination and style.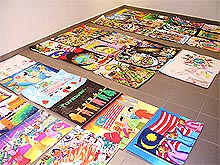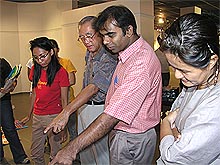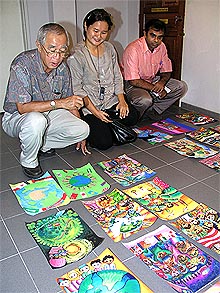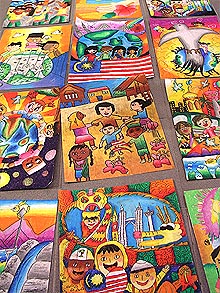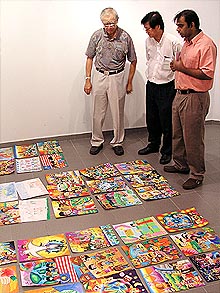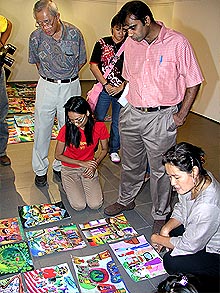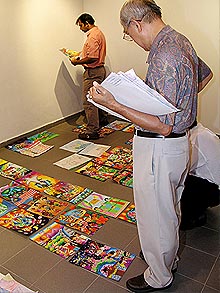 Photos by Adrian Cheah
.