• The Penang Global Ethic
• Project: 4 Feb to 10 Mar 2006
• – Official Launch
• – Speeches
• – Photo Gallery
• Exhibitions
• – Bahasa Malaysia
• – English
• – Chinese

• Folke Tegetthoff's 'Tales from
• Heaven'
• – Presentation
• – Photo Gallery
• – Workshop
• – Photo Gallery

• Arabic & Chinese Calligraphy
• on 'The Golden Rule'
• – Photo Gallery
Art Competition
• – Photo Gallery

• Public Forums
• – Views on Religion &
• – Environment
• – Views on Religion &
• – Corruption
• – Views on Religion & Peace
• Exploring Streets Of Harmony
• – Photo Gallery
• World Religions Walk
• PENANG
• – Introduction
• – Location Map
• – Details of Virtual Tour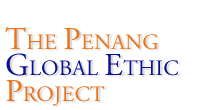 The Penang Global Ethic Project Launch
WORKSHOP
Folke Tegetthoff's 'Tales from Heaven'
WORKSHOP – 8.00pm, Monday, 13 February 2006
....at USM ABN-AMRO Arts & Cultutal Centre, Lebuh Pantai
---
Folke Tegetthoff is internationally regarded as founder of a new trdition of story-telling. No one else has influenced this art form like Tegetthoff – althought his work as a storyteller, poet, lecturer, festival founder and organiser. His "World Storytelling Tour" (Welttournee des Mächens) has led him to 28 countries on five continents.
On Monday, he was here on the island to shared his dynamic narrative talents with Penangites when he depicts stories from his famous 'Tales from Heaven' during a workshop.
The 52-year-old from Graz believes that storytelling is the purest form of communication. "There is no stage settings, no costumes and no masks. Just me, my words and the audience. Storytelling is the oldest art form where communication can be very personal and direct," he adds.
Tegetthoff also explains that storytelling does not simply mean setting up channels between mouth and ears. It means laying out very fine threads between hearts.
Tegetthoff is the organiser of Europe's biggest storytelling festival, the 'Grazerzahlt' or "Tales of Graz". He has published 31 books, selling over 1.4
million copies, and has had seven TV movies made. His website can be viewed at www.tegetthoff.at.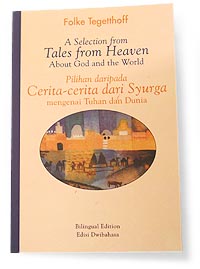 The event was organised by the Konrad Adenauer Foundation and Universiti Sains Malaysia (USM), with the support of Cape Poetics. It was part of the 'The Penang Global Ethic Project', a month-long series of programmes to promote concepts of universal peace and multi-religious harmony.
Interestingly, Tegetthoff's own home seems like one out of a fairytale. He lives with his family in an old, former St. Georgen nunnery in the Austrian province of Styria with his dog, goats, duck, geese, rabbits, fishes, birds and hens. And, of course, his fairies and elves.
Click here for photo gallery of the workshop.
.