The Penang Global Ethic Project Launch
ART COMPETITION (for primary & secondary school students)
Seeing Unity in Diversity
Starts at 8.00am, Saturday, 18 February 2006
....at Dewan Sri Pinang in Lebuh Light
This art competition was opened to primary and secondary school students in Penang. It was divided into 4 categories with the theme – "Seeing Unity in Diversity. The event was organised by the Penang Teachers' Art Circle. Winning entries were exhibited for public viewing at Dewan Sir Pinang in Lebuh Light till 11 March 2006.
From the Press
The Star
North
Thursday February 23, 2006
Scenes of unity in diversity
By K. KASTURI DEWI
MOST of them were sprawled on the floor surrounded by their paints, colour pencils, crayons and brushes.
Others brought their own 'mini' tables and chairs to ensure they would be in their most comfortable position as they translate their thoughts into their masterpieces.
As the 300-odd children set their mind on drawing and colouring their art works, it was clear that they were totally oblivious to their surroundings as they drifted into their own world of imagination and colour.
The children aged between seven and 18 were at the Dewan Sri Pi-nang in Penang recently to take part in the World Religions, Uni- versal Peace, and Global Ethics Children's Art competition.
Organised by the Penang Tea-chers Art Circle, the competition themed 'Seeing Unity in Diversity' saw the participants coming up with their personal perspectives of the theme.
Circle chairperson Yew Swee Wah said the theme was chosen to educate and raise awareness especially among the young that people of different religious and ethnic backgrounds could live together peacefully when there is mutual understanding, acceptance and goodwill.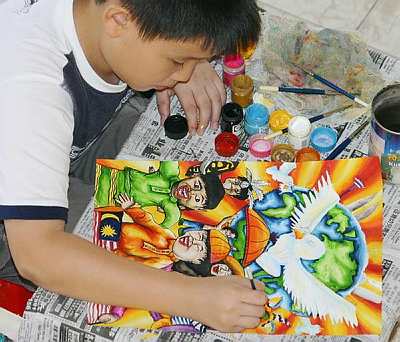 ALMOST DONE: A participant putting the final touches to his art piece in the competition.
"Goodwill and harmony would prevail when we follow the golden rule that we should treat others the way we expect others to treat us," she said.
The competition was divided into four categories – Category A (Primary One to Three), Category B (Primary Four to Six), Category C (Form One to Three) and Category D (Form Four to Six).
Nivashini Muralidaren, 17, from SMK Convent Butterworth said she would usually take part in art competition to improve her-self.
"I've been attending art tuition since the age of 10 and since then I've been taking part in art competitions," she said.
Nivashini said art competitions, which each carried a theme, should be encouraged especially among youths, "as it makes us think and opens our mind to the issues related to the theme".
Winners in category A were SJK (C) Jelutong's Khaw Kar Wei, eight, SJK (C) Chung Hwa Confucian B's Sharon Chong Jia Rou, nine, and St Christopher's School's Kim Hyun Woo, eight.
The consolation prize winners were Ooi Tan Pheng, Esther Re-becca, Ginny Lim Jhia Nan, Chew Yan Er, L. Kamukill, Grace Anjali Teoh Li Mei and Park Jin Yoon.
The category B winners were Nurul Dayana Shamsudin, 12, (SK Tasik Gelugor), S. Theivanai, 10, (SK Convent Butterworth) and Lee Chu Foo (SJK (C) Kim Sen).
Consolation prize winners were Loh Jia Cheng, Teoh Yyi Ran, Teh Yong Kiat, Ooi Tze Ching, Soo Xiang Ling, Sim Chau Cheng and Hajjar Zabidy.
Winners in category C were Tan Chee Beng, 15, (SMJK Chung Ling), Yeoh Jing Yee, 15, (SMK (P) St George) and H'ng Huey Koon, 14, (SMJK Jit Sin).
Consolation prizes were won by Mun Kai Hoang, Soo Wen Yee, Ng Pei Ching, Wu Pei Xian, Lim Yong Zheng, Geraldine Teoh Pei Lynn, Khoo Kok Leong.
Category D winners were Khor Hui Gim, 17, (SMJK Perempuan Cina), Lim Ee Theen, 16, (SMJK Convent Datuk Keramat) and Lee Shan Pei, 17, (SMJK Convent Datuk Keramat).
Consolation prize winners were Lim Beng Hee, Ooi Woei Sheng, Saw Siong Keat and Saw Han Lyn.
---
Click here for Photo Gallery
.