• The Penang Global Ethic
• Project: 4 Feb to 10 Mar 2006
• – Official Launch
• – Speeches
• – Photo Gallery
• Exhibitions
• – Bahasa Malaysia
• – English
• – Chinese

• Folke Tegetthoff's 'Tales from
• Heaven'
• – Presentation
• – Photo Gallery
• – Workshop
• – Photo Gallery

• Arabic & Chinese Calligraphy
• on 'The Golden Rule'
• – Photo Gallery
Art Competition
• – Photo Gallery

• Public Forums
• – Views on Religion &
• – Environment
• – Views on Religion &
• – Corruption
• – Views on Religion & Peace
• Exploring Streets Of Harmony
• – Photo Gallery
• World Religions Walk
• PENANG
• – Introduction
• – Location Map
• – Details of Virtual Tour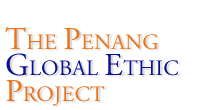 The Penang Global Ethic Project Launch
FREE GUIDED TOURS FOR TOURISTS & LOCAL RESIDENTS
(3-15 persons per group)
World Religions Walkabout
LEBUH FARQUHAR–JALAN MASJID KAPITAN KELING–LEBUH ARMENIAN–LEBUH ACHEH
English • Wednesdays & Saturdays, meet at 9am at Penang Town Hall
Mandarin • Saturdays, meet at 9.00am at alpha ultra gallery, 83 Lebuh Cina
Malay • available on request.
Walkabouts which encourage discussion and sharing of knowledge about the history, heritage and values represented by landmarks and places of worships along the Street of Harmony. Each tour lasts 2½ hours. Additional tours are available upon request. To register call Penang Heritage Trust at 604-264 2631.
From the Press

The Star/News
North
Saturday March 4, 2006

Heritage walkabout
TWENTY people, mostly tourists, got a feel of Malaysia's multi-religious community during a recent walkabout in George Town, Penang.
They were taken to places of worship of four different faiths during the World Religions Walkabout held in conjunction with the Penang Global Ethic project, sponsored by the Malaysian Interfaith Network and Konrad Adenauer Foundation.
Led by a heritage guide, the participants visited a mosque, a Catholic church, an Anglican church, a Buddhist temple and a Hindu temple along Farquhar Street and Jalan Mesjid Kapitan Keling.
Jalan Mesjid Kapitan Keling is sometimes called the "street of harmony" since the places of worships of four major religions are along the road.
The free tour started from the Penang Town Hall at the Esplanade and lasted two-and-a-half hours.
Penang Heritage Trust (PHT) office manager Magdeline Ng-Leong said the walkabout focused on the sharing of knowledge about the history and values represented by landmarks and places of worships.
There will be other walkabouts today at 9am and on Wednesday.
For details and registration, call the Penang Heritage Trust (04-2642631).