• The Penang Global Ethic
• Project: 4 Feb to 10 Mar 2006
• – Official Launch
• – Speeches
• – Photo Gallery
• Exhibitions
• – Bahasa Malaysia
• – English
• – Chinese

• Folke Tegetthoff's 'Tales from
• Heaven'
• – Presentation
• – Photo Gallery
• – Workshop
• – Photo Gallery

• Arabic & Chinese Calligraphy
• on 'The Golden Rule'
• – Photo Gallery
Art Competition
• – Photo Gallery

• Public Forums
• – Views on Religion &
• – Environment
• – Views on Religion &
• – Corruption
• – Views on Religion & Peace
• Exploring Streets Of Harmony
• – Photo Gallery
• World Religions Walk
• PENANG
• – Introduction
• – Location Map
• – Details of Virtual Tour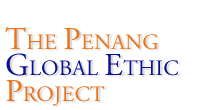 The Penang Global Ethic Project Launch
ART COMPETITION (for primary & secondary school students)
Seeing Unity in Diversity
Starts at 8.00am, Saturday, 18 February 2006
....at Dewan Sri Pinang in Lebuh Light
This art competition was opened to primary and secondary school students in Penang. It was divided into 4 categories with the theme – "Seeing Unity in Diversity. The event was organised by the Penang Teachers' Art Circle. Winning entries were exhibited for public viewing at Dewan Sir Pinang in Lebuh Light till 11 March 2006.
List of Winners
Winners in category A (Primary One to Three)
• Khaw Kar Wei, 8 (SJK (C) Jelutong)
• Sharon Chong Jia Rou, 9 (SJK (C) Chung Hwa Confucian B)
• Kim Hyun Woo, 8 (St Christopher's School)
Consolation prize winners
• Ooi Tan Pheng
• Esther Re-becca
• Ginny Lim Jhia Nan
• Chew Yan Er
• L. Kamukill
• Grace Anjali Teoh Li Mei
• Park Jin Yoon.
Winners in category B (Primary Four to Six)
• Nurul Dayana Shamsudin, 12, (SK Tasik Gelugor)
• S. Theivanai, 10, (SK Convent Butterworth)
• Lee Chu Foo (SJK (C) Kim Sen)
Consolation prize winners
• Loh Jia Cheng
• Teoh Yyi Ran
• Teh Yong Kiat
• Ooi Tze Ching
• Soo Xiang Ling
• Sim Chau Cheng
• Hajjar Zabidy
Winners in category C (Form One to Three)
• Tan Chee Beng, 15, (SMJK Chung Ling)
• Yeoh Jing Yee, 15, (SMK (P) St George)
• H'ng Huey Koon, 14, (SMJK Jit Sin).
Consolation prizes winners
• Mun Kai Hoang
• Soo Wen Yee
• Ng Pei Ching
• Wu Pei Xian
• Lim Yong Zheng
• Geraldine Teoh Pei Lynn
• Khoo Kok Leong.
Winners in Category D (Form Four to Six)
• Khor Hui Gim, 17, (SMJK Perempuan Cina)
• Lim Ee Theen, 16, (SMJK Convent Datuk Keramat)
• Lee Shan Pei, 17, (SMJK Convent Datuk Keramat)
Consolation prize winners were
• Lim Beng Hee
• Ooi Woei Sheng
• Saw Siong Keat
• Saw Han Lyn
---
Click here for Photo Gallery
Click here for Press Release
.